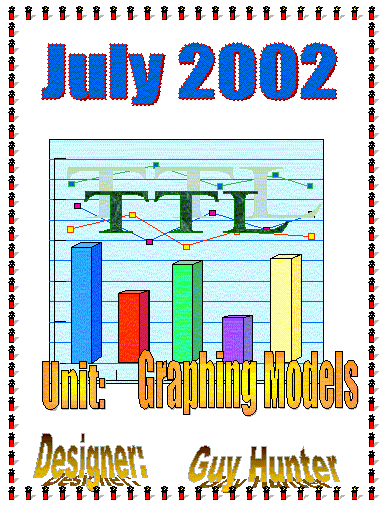 Essential Questions to Guide this Unit and Focus Teaching and Learning:
What math still needs to be developed?
Why is it essential to be able to interpret graphs and their data?
Why is important to know which graphical display model to choose to represent your data?
Why is estimation/rounding a vital life skill?
Why is organizing your data first, the key to problem solving?
Why is hypothesizing an important problem solving tool?
Why is verification of your result a must?
I want to try and incorporate a variety of techniques to have the students arrive at the essential questions themselves. I will have to do some form of directive questioning. Other techniques that I will try are:
Have a group of different graphic representations of the SAME data on the board and have the students discuss the pros and cons of using each type. Also have the students discuss what types of data would be better for each of the types.
I also want to use the Jeopardy Game format into having the students come up with the questions for the answers.
I also like an idea I heard at TTL. It was suggested that having the students discuss what questions should be on the unit exam is a great way for the students to discuss what was and should have been learned throughout the unit.
SD Content Standard Goals (SD Content Standards):
MATH -The student will be able to:
GRADES 9-12 NUMBER SENSE STANDARDS
3. understand that real numbers can be represented in a variety of forms. (example: integers, fractions, decimals, percents, scientific notation, exponents, radicals, absolute value, logarithms)

8. add, subtract, multiply, and divide real numbers including roots and exponents using appropriate computational strategies. (example: mental mathematics, paper and pencil, calculator)

13. use estimation strategies in complex situations to predict results and to check the reasonableness of results.
GRADES 9-12 PATTERNS, RELATIONS, AND FUNCTIONS STANDARDS
1. describe the structure of the real number system and related subsets.
4. describe the relationship of the real number system to the complex number system.
GRADES 9-12 STATISTICS & PROBABILITY STANDARDS
1. analyze and evaluate surveys and experiments conducted by others. (example: bias, randomness, analysis, interpretation)
2. create, implement, and defend a plan for gathering data to answer relevant questions.
3. compare multiple one-variable data sets, using statistical techniques including measures of central tendency and dispersion.
4. calculate measures of central tendency and dispersion for complex sets of data.
5. demonstrate how statistical analysis can quantify variability.
| | |
| --- | --- |
| | The unit will contain a variety of methods to assess the students' knowledge and comprehension. |
| | The daily assessments will come from the discussion over the reading questions assigned to each lesson from the text, as well as, evaluating the lesson masters assigned to each section of the unit. |
| | A third assessment will be made via the results of their 'M & M' lab and presentation of the results. |
| | The fourth type of assessment will be the two individual quizzes over various sections of the unit. |
| | The fifth type of assessment will be our practice test done in cooperative group settings. |
| | The sixth type of assessment will be our individual unit project. |
| | The last assessment will be a paper and pencil test over the entire unit. |
Time Frame: 9 class periods on Block Scheduling
This is just the first lesson out of my unit
Lesson Plan Topic:
Collecting Data and Tables and Graphs (sections 1-1 & 1-2)


Objectives:
v Use samples to make inferences about populations.
v Determine relationships and interpret data.
v Read and interpret bar graphs or circle graphs.
v Draw graphs to display data.


Activities:
I will be showing my PowerPoint presentation on an overview of the unit to start the class today.
1. We will be orally reviewing the Cover The Reading (CTR) questions at the beginning of class. I will be giving lecture notes on various problems that we answer during the oral review that will help the students with their class work.
2. During class they will be working in cooperative learning groups on the two assigned worksheets. They must be turned in before class is over.
3. Their homework will be to read and answer the CTR questions for section 1-3.
4. They will also be assigned their Unit Project today.

Assessment:
My first assessment will be an evaluation of how well the students did in the class discussion of the CTR questions.
My second assessment will be to grade the worksheets the students did in their cooperative learning groups.


Resource(s):
The students' textbook
Lesson Masters 1-1 & 1-2
Ti-83 Calculators or the students' own calculators
Ti-83 Overhead projector
TO VIEW THE ENTIRE UNIT CLICK ON THE BUTTON BELOW
The students will have many opportunities to use technology in this unit.
They will have to use the internet for their 'M & M' Lab.
They will also have to use the internet for their unit project.
They must come up with 6 different forms of graphic representation of data they have gathered from 6 different sources off the internet.
They also have to use their Ti-83 calculators to list the data and this can be done by downloading it from the internet.
They will use the calculators to find answers to their labs, projects, homework, quizzes and tests.
The goal of this unit is for the students to be able to compare, contrast, and choose the appropriate graphing model for representing the data they are evaluating.
It is my job to make sure the students remember this after each introduction of the various graphing models (WHERE).
I want to try and find projects that involve research in areas that are important to the students in their daily lives (HOOK).
I will have the students work in various types of learning environments. They will be working individually, in partners and in a cooperative learning group setting (ENGAGE). I will provide them with some small data samples for guided practice. I will also have them use their calculators, Excel, and the Internet for research and data gathering and representation of their results (EQUIP).
We will have a daily reflection time at the end of each class period. This is for the students to be able to evaluate on what they have accomplished and where they want to go with their work for that day and for their Unit Project (RETHINK and REVISE).
We will have a presentation for each of the students' Unit Project. At the culmination of each presentation the rest of the class will be allowed a Q & A session (EXHIBIT).